By Patrick Light and Khushboo Jashnani
Though submitting and tracking state filings has improved dramatically over the last decade, many insurance companies are not yet taking full advantage of state filings software and technology that could further improve efficiency and visibility.
Many processes are still locked in emails and Excel spreadsheets on individual computers, decreasing visibility for business partners and other stakeholders. In addition, the lack of a standardized, centralized, and easily accessible repository for state filings increases the workload on insurance companies' state filing teams.
As consulting and state filing support leaders for some of the nation's top insurance companies, we have developed innovative state filings software to help our teams increase visibility and control. This industry-leading software, StateFilings.com, is available for our clients to license.
A Streamlined Workflow
StateFilings.com was designed by the state filing experts at Perr&Knight. This advanced, intuitive software streamlines the state filing workflow, enabling greater transparency, accessibility, and efficiency.
Here's a process demonstrating how this tech-enabled workflow helps state filings departments:
Business Partner Creates a Project
Business partners have a designated role with specific permissions in StateFilings.com. Business partners are generally "read-only." However, they can enter a new project and hand it off to the state filings unit. Business Partners cannot submit filings or add or edit any other data in the system. A business partner-specific view streamlines their ability to monitor multiple project statuses simultaneously.

Adding and Sharing Documents
Next, the business partner can add documents they want to hand off to the state filings unit. Using the project attachments feature enables the uploading of Word and Excel documents, which can be shared and edited by multiple users simultaneously. Business partners can also create a form template in the exact format that a filer would file it.
Sharing a template with business partners eliminates a manual handoff — the state filings unit can apply the template to a filing instead of re-typing the information into the system.
Read more: 5 reasons why state filings are rejected.
A Smooth, Instant Handoff
After creating the filing template and attaching relevant documents, the business partner changes the project's status to "Submitted to Filings Unit." From this point forward, the business partner can no longer edit the project — they are read-only. The system then automatically fires an email to the state filing unit. A state filing analyst can then accept the project and change its status to "Assigned" to begin their review.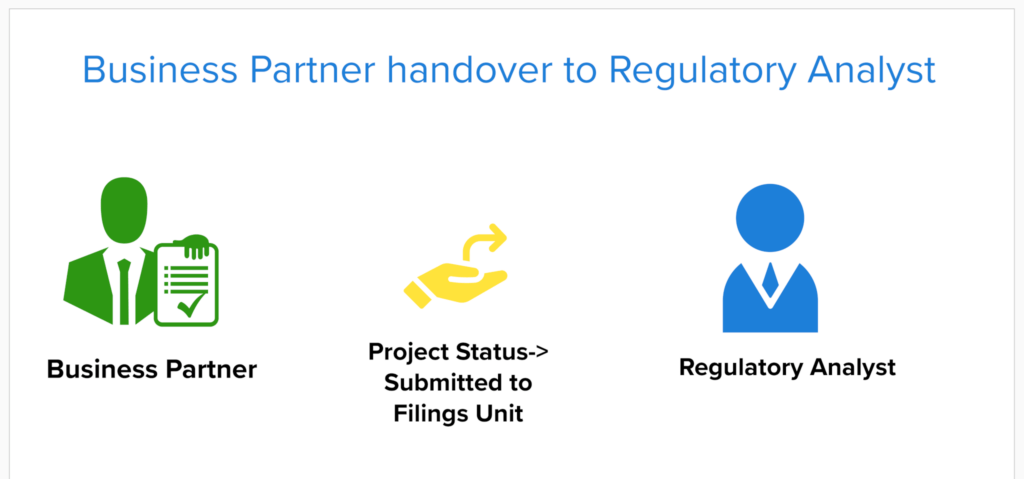 Tracking Work in Progress
Once documentation is finalized, the state filing analyst can create filing drafts and change the project status to "Work in Progress," indicating the filings have started. The analyst can apply templates to multiple filings simultaneously, saving time by eliminating the need to enter form data manually. The state filings software further streamlines the process by enabling analysts to submit numerous filings to SERFF at once.

Authors can include important information and track the status of each filing in real time. Each submission contains inputs for the following:
Filing requirements
Project expectations (TOI, form/rate/rule, etc.)
Peer review tracking and feedback notes
Filing submission dates
Objection tracking and corresponding follow-up and due dates
Approval communications and dates
And more
Automated Objection Handling
When an objection is received, built-in email functionality proactively fires an email to all authors, eliminating the need to proactively monitor SERFF. StateFilings.com stores all past objections, enabling data mining and specific information searches. Two-way integration with SERFF allows authors to issue a response directly from StateFilings.com. Consolidation of all filing-related communications saves time by eliminating the need to track down disparate emails.

Automated Approval Notifications
StateFilings.com automatically notifies authors when SERFF issues an approval. API integration enables companies to update external systems upon SERFF approval, further streamlining the workflow and supporting stakeholder visibility.
Advanced State Filings Software Improves Efficiency
Homegrown systems like Excel, email, and hard drive storage may have been cutting-edge technology in the past but are now outdated. Companies still using these non-centralized technologies compromise efficiency and increase the risk of crucial information falling through the cracks.
StateFilings.com consolidates all data to eliminate manual handoffs and improve tracking visibility. Collaboration in a shared platform enables business partners, analysts, and other stakeholders to keep current on all filings while working together toward a common goal.