Improve State Filing Efficiency, Even Working Remotely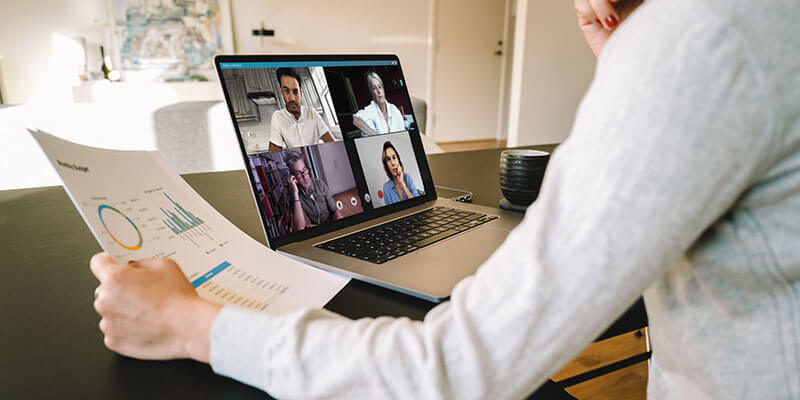 Authors: Jessica Witvoet API, AIS, AINS, AIT, Diane Karis AINS, CPCU, and Neresa Torres
Many insurance companies were faced with a difficult transition when state or county orders meant to mitigate the spread of COVID-19 forced some or all of their staff to stay home earlier this year. Those who weren't prepared for extensive remote working scrambled to set up secure systems easily accessible by employees unable to return to the office where servers, desktop computers and physical files are stored.
Because of Perr&Knight's five regional offices across the United States, we've already had extensive experience using digital tools to collaborate from geographically dispersed locations. Our state filings support team conducts the majority of our work online using sophisticated web-based software, enabling us to work together seamlessly from anywhere.
StateFilings.com is a proprietary software tool we use internally to provide insurance filings support for our clients. It is also available for subscription, so insurance companies can more efficiently manage their own rate, rule and form filings.
StateFilings.com enables companies to maintain the pace and accuracy of filings even when working offsite. The software includes built-in features controlling three aspects of the process: project management, research and workflow. Here's how these tools support the entire scope of insurance product filings support.
Project Management
Because all aspects of our form filings services are online – including access to SERFF – StateFilings.com updates all phases of the project in real-time and provides visibility to team members who have been granted access. This means an individual can create and submit a filing to a DOI and others can see exactly what has been done and how far along the filing is in the approval process.
This real-time visibility eliminates the need for lengthy internal back-and-forth communication via email and enables all members of the state filings department to provide support or peer review without a cumbersome catch-up process.
On our end, easy access and full transparency for all filings enable our state filings support team to process any countrywide filing project within ten business days. Insurance companies who subscribe to StateFilings.com for their own filings departments also report that access to a single, user-friendly filing repository has dramatically increased their efficiency.
Real-time processing also eliminates the need to regularly check with DOIs to monitor actions. StateFilings.com has access to SERFF via a secure API, so the system automatically downloads approvals or objections and updates project status automatically. Dispositions trigger automatic emails noting the filing has been closed, along with a link to the approval. This high level of automation simultaneously eliminates time-consuming batch processing and ensures individuals in filing departments always have instant access to current information.
Research
StateFilings.com can be utilized as a research tool to evaluate various historic countrywide projects. We use StateFilings.com to enhance our insurance product filings support by checking previous filings to determine particular jurisdictional nuances that may impact our clients' filings. We can also calculate the average DOI turnaround time by state and line of business to accurately gauge the anticipated time to approval for similar filings.
The software also keeps approved forms and rates and rules on file, accessible via the web. By removing the need to house this information on location-specific servers, filing department staff can quickly review important information, even while working remotely.
Companies who subscribe to StateFilings.com have access to all these features for their own current and historic filings.
Workflow Assignment
Activity Manager allows users to view outstanding items on a filing including the activity type, due dates and follow up dates for any state included in a project. Assignments can be divided by line of business or state, providing at-a-glance insight into outstanding issues with filings, project assignments and approval status. Work load can quickly be determined, delegated and easily reassigned within Activity Manager to one or multiple users. This functionality allows our team's supervisor to ensure efficiency and productivity so that we may deliver the most value to our customers.
This level of organization is also helpful for quickly onboarding new members to the State Filings Department. Access to historical filings enables new employees to easily review submitted information, required materials, questions from regulators and any notes made during previous filings.
Because of our nationwide presence and focus on technology, Perr&Knight has been structured to support virtual collaboration for years now, so the shift to remote work was not disruptive to our workflow. We know many of the tools and processes we employ can help other insurance companies improve productivity and get their products to market faster, even in today's uncertain climate. For insurance filings support, StateFilings.com has been a crucial asset to our business model and we have seen it help other companies achieve the same high level of filing efficiency.
Perr&Knight is ready to help you add the technological assistance and advantage of Statefilings.com to your organization. Contact Perr&Knight today to talk.