How to Navigate the California Rate Filing Environment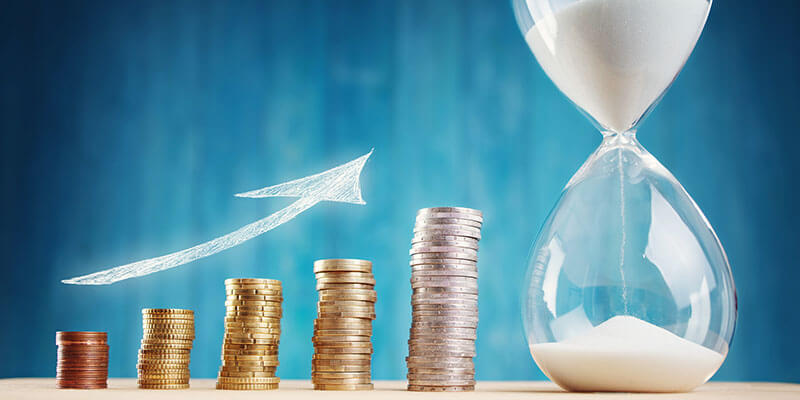 Many insurers are struggling to obtain additional rate in California to address unprofitable programs and elevated loss trends. State Farm's recent announcement in May 2023 that they will stop accepting new business for homeowners shines a spotlight on the issues with the California marketplace. While State Farm made a public announcement, Allstate quietly notified the state of their decision to stop writing new homeowners business (including condo) and commercial policies within the last year. AIG also decided in early 2022 to exit from the admitted homeowners market in California.
How long does it take for filings to be approved?
In Chart 1 below, we have displayed the time to approval for all filing types for the period January 2012 through May 2023. Figures worth noting:
Rate/New Program Filings: Increased from 80-90 days in 2012 to around 350 days in 2023
Other Filings (e.g., rule and form filings): Increased from about 65 days to approximately 150 days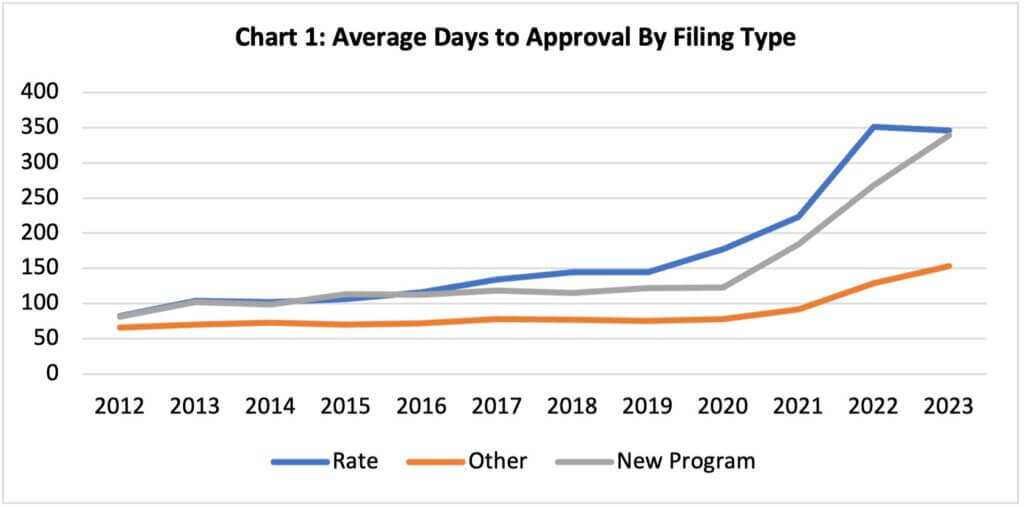 We further break down rate filings by line of business in Chart 2 below. Although there are some variations by line of business and fluctuations by year, all the lines of business are on a similar trend path: filings taking longer to be approved.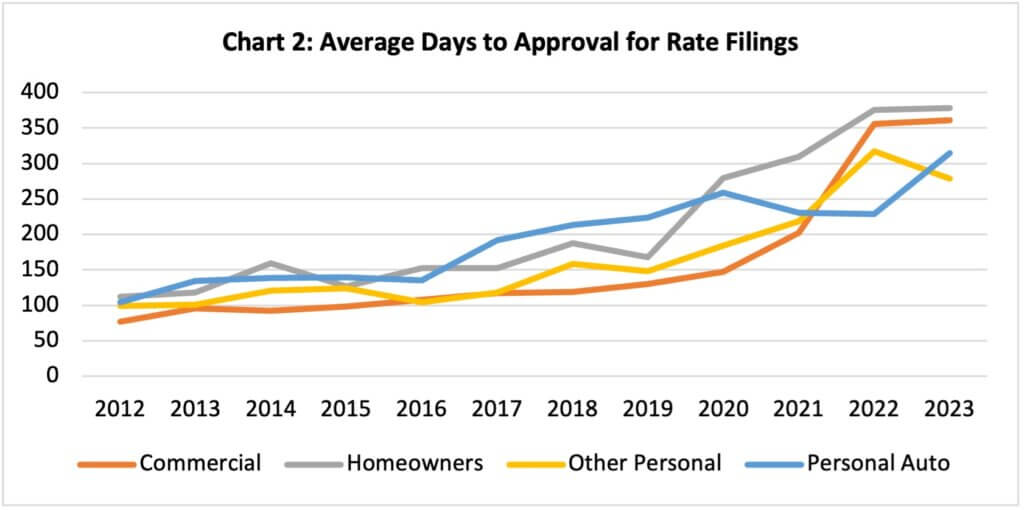 Based on information provided by our actuarial consulting and state filings experts, there are several factors that have contributed to the increase in the time to approval.
Homeowners rate filings
Starting in 2018, there has been a noticeable increase in the time to approval for homeowners. In response to a series of devastating wildfires, insurance carriers filed for more restrictive underwriting criteria and significant rate increases in wildfire areas. The CDI heavily scrutinized these filings to ensure the availability of insurance and to make sure that rates were not excessive for these risks. The CDI also added a layer of review that required signoff by upper management, including the commissioner, further increasing the time to approval.
Personal auto rate filings
The CDI implemented a moratorium on personal auto rate increases during COVID-19. When the moratorium was lifted, the CDI started reviewing rate filings that had been on hold and pending – in some cases for more than a couple of years. At the same time, other insurers started submitting much-needed rate increase filings. Additionally, the CDI was concerned that insurers did not refund enough premium during COVID-19 and formed a committee to review the refunds. The committee coordinated the refund reviews with the rate filings being submitted by insurers, and this extended the review time for personal auto rate filings.
Changes to the filing review process
Over the years, the CDI has changed its review process. For example, nowadays, you need to submit a complete rate manual with each rate and/or rule filing, and the CDI typically reviews the entire rate manual – not just the items being revised. Largely due to the CDI changing its position over time, it is not unusual to receive objections on items that are not being altered in the filing and were previously approved.
Staffing shortages
Another factor impacting the time to approval is staffing shortages at the CDI. The CDI has had a number of experienced Bureau Chiefs and analyst retire over the last few years. With the CDI working remotely, it has also made training of new staff more difficult.
All of the above has led to an increase in the number of pending rate filings over the last several years. Fast forward to today, and the number of pending filings is almost 70% higher than the average of the five years pre-COVID. At the same time, the number of submitted rate filings per year from January 2021 to May 2023 is down between 20% to 30%.
Summary of pending and approved rate filings for homeowners and personal auto
There is a significant need for rate increases in California, as can be seen by the pending rate filings for homeowners and personal auto, which are displayed below for the top 10 carriers.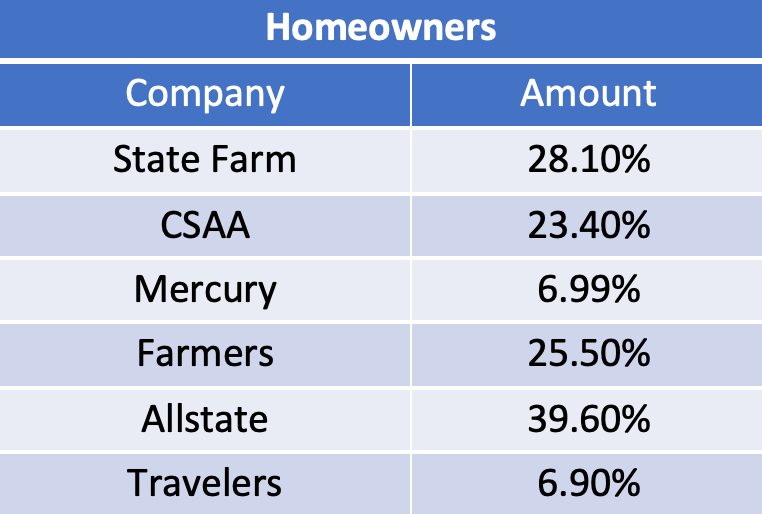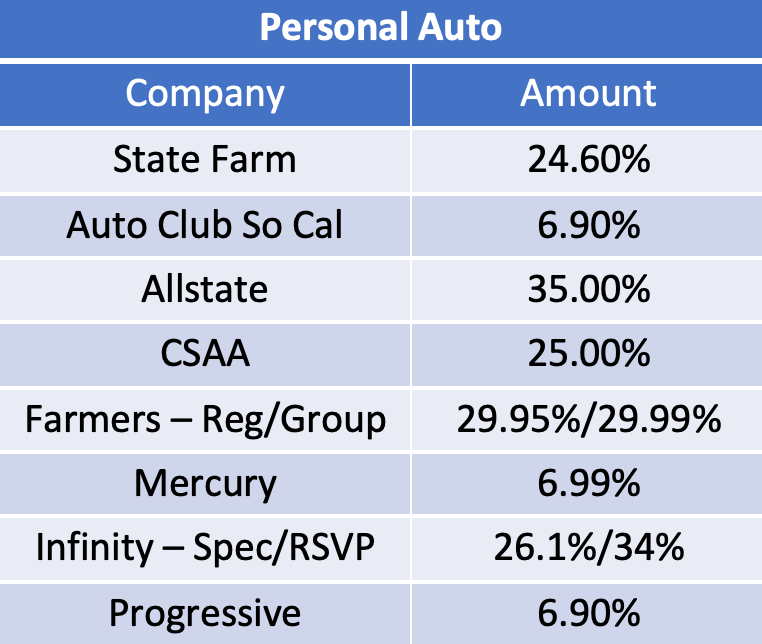 Below are some key figures on approved filings for homeowners and personal auto as of May 2023:
• 16 homeowners and 40 personal auto rate increases filings have been approved in 2023
• Two homeowners and six personal auto rate filings submitted in 2023 were approved
• Approved rate increases range from 3.5% to 65.0% for homeowners and 4.5% to 65.0% for personal auto
As can be seen from the above, there are rate filings that are being approved a lot faster than the overall average to time approval. Also, there is a wide range in the proposed rate changes that are being approved.
How can an insurer reduce the time to approval for filings?
According to our actuarial consultants and state filings experts, the key to reducing the time to approval for filings is to minimize the rounds of objections. To do this, an insurer should do the following:
Expert rate filings reviews: Whether it is an internal review, or one done by an outside actuarial consulting firm, having an expert on California filings review your filings will reduce the number of objections.
Perform data quality and reconciliation: The CDI has a data quality and reconciliation checklist, and companies should confirm that all items on the list reconcile. The checklist is not a required part of the filing, but it includes all the data checks performed by the CDI.
Review updates to filing instructions: The CDI updates its filing instructions on a periodic basis, so insurers should monitor this for any new requirements or changes. For example, the CDI added a rating example requirement earlier this year, which the CDI will request in an objection letter if not provided.
Have virtual meetings with the CDI: Virtual meetings are a good way to keep a filing moving and reduce correspondence back and forth. If you are unsure whether a response will satisfy the CDI, schedule a virtual meeting with the CDI, go through the response and get the CDI's feedback. Pre-filing meetings or emails can also be used to answer questions on how items should be filed.
File rate changes higher than 6.9%, if well supported: For many years, insurers filed successive 6.9% rate increases rather than requesting their full rate need in a single filing. Although consumer groups can force a rate hearing on personal lines with a rate increase above 6.9% (14.9% on commercial lines), the insurer can negotiate with the consumer group and the CDI on well-supported filings.
About Perr&Knight
Perr&Knight is a leading provider of actuarial consulting and state filing services to insurers in California. Our experts actively follow the California market and are deeply familiar with all the filing requirements in the state. We prepare and submit more California filings than any other company. Our experience includes expert testimony on rating filings and providing guidance to industry associations.
Please contact our team of actuarial consultants and state filing experts to assist with your California insurance products.