Think Before You Act: Why Expert Solution Architecture Should Always Precede Critical Data Initiatives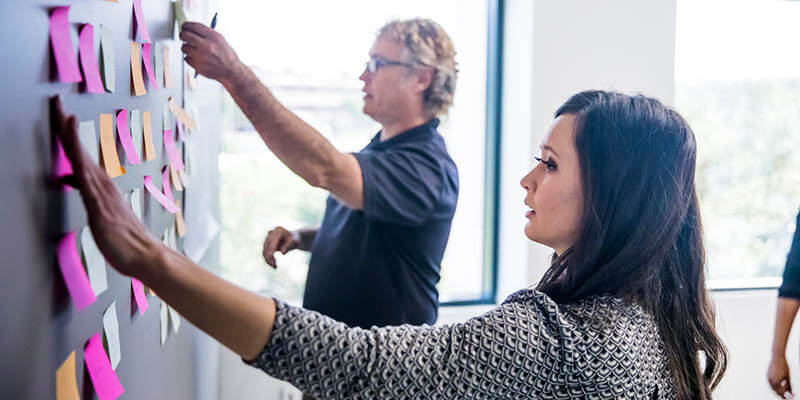 Deploying a data solution that addresses a real-world business problem is not just about drafting a quick set of specs and coding to meet those requirements. Instead, it's about architecting a solution that will satisfy your true business need.
As experts in insurance data services, we have seen many companies dive headfirst into development without taking the time to outline a process that delivers not only their desired data set, but a viable strategy to keep moving forward.
Companies can sink deeper and deeper into development quicksand, increasing budgetary spend and extending the project timeline by piling more features onto both legacy and modern systems that don't fully address the problem. To achieve lasting solutions that deliver maximum value, slow down and think before you act.
Focus on the problem, not the tools
Before you undertake any data initiative, it's vital that you dedicate sufficient time and attention to define the full scope of your problem. We have seen companies get distracted by the latest, greatest software tools and fail to determine whether or not these tools will deliver the information they need.
Focusing primarily on tools is like shopping for ingredients without an idea of the meal you will be preparing. Instead, clearly articulate the problem first, then determine how you will utilize the tools at your disposal to solve this problem as efficiently as possible.
At Perr&Knight, most of our engagements are preceded by an in-depth workshop, during which we aim to identify the true need. Many companies think they need help with one aspect, but it turns out that addressing a different issue will solve their challenge. We apply our insurance data services expertise to determine short-term success as well as define a long-term solution that will help our clients avoid this situation in the future.
Outline specific future actions and activities
After assessing your problem, articulate the specific activities that you will take as a result of obtaining your data set. Knowing these actions informs the scope of what should be contained in your reports. Focus on obtaining useful information that will equip your teams to perform their jobs more efficiently and effectively.
Teams must understand how their roles support your business
IT teams might be deeply focused on technical aspects of the initiative but lack sufficient context for the project as a whole. As such, their expertise is stifled. Don't limit your IT teams to only the execution of the plan – loop them in early to make sure that the ultimate solution takes into consideration your actual business needs. Spend time bringing your IT team up to speed on how their input fits into the bigger picture of your data initiative and what your overall goals and outcomes are. Equipped with this knowledge, your technical teams become more valuable project assets.
How to avoid "analysis paralysis"
Successful deployment efforts start with the known and build incrementally from there. Look for what you can define that will provide an immediate benefit. In the effort to plan for every possible event, software developers can end up overdesigning their solution architecture. Companies that want to create a massive system to address every possible future need often get stuck developing bloated, unwieldy software that takes forever to deploy.
Perr&Knight's process is to plant a firm stake in the ground by targeting a specific data consumer with a specific need, then focus on building out just those portions. From there, we expand incrementally, generating deliverables that are definable, measurable, and achievable.
More expert tips to keep your data initiatives on track
DON'T cast too wide a net. Keep your eye on the specific problem you're trying to solve.
DON'T chase trends. Make sure your solution delivers the information that addresses your core
DO make sure that you are being specific. There's no point in coding to vague specs.
DO define what constitutes success before you undertake the project, including how you will measure progress along the way and metrics that ensure you accomplish various scope items throughout development.
The fact is, data reporting is not a sexy profit center – but it is a critical part of doing business. Everyone wants a quick plug-and-play fix, but solution architecture is more about business modeling than a strictly technical solution. There is no such thing as a silver bullet. Quality solution architecture starts at the business level, i.e. understanding your business problem and applying that knowledge as your guide to implement the best solution. Data initiatives are a marathon, not a sprint. Keep this in mind and you're sure to go far.