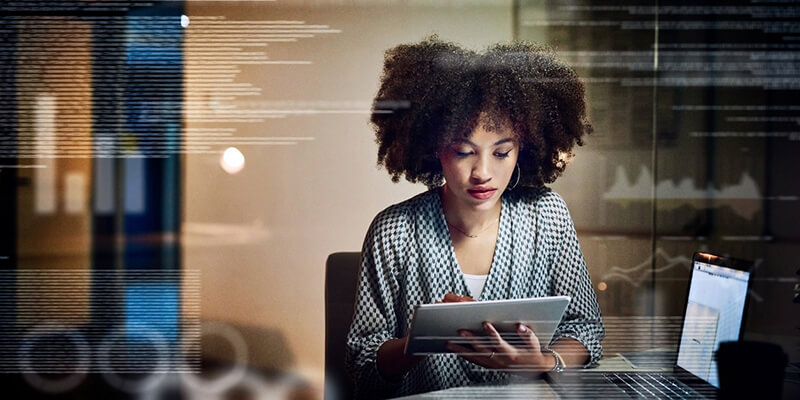 A rather intriguing economic downturn in 2020 caused by a public health crisis (COVID-19) has led companies to embrace draconian spending cuts leading to tight budgets with little room for flexible spending. This accentuates the need for companies to have a more malleable business model. These models should highlight the need for companies to focus more on their core business activities while outsourcing all or some of their software projects. The perception of outsourcing should change from just 'developers on hire' to 'strategic partners' that can help grow business and enhance the brand reputation.
Prior to COVID-19, there were property and casualty insurance IT consulting trends taking a strong foothold coming out of 2019. Some of these trends have been taking shape as a result of insurance carrier budgets becoming a little tighter and these same carriers expecting more deliverables with less effort. We discuss four of these trends here.
Insurance Knowledge
It is becoming commonplace for insurance carriers to demand their consultants, specifically those who are engaged in implementation type projects, to have specific knowledge in insurance. It is no longer enough to be a good developer, business analyst or project manager in order to consult for projects that have a high degree of insurance applicability. One of the pitfalls experienced by carriers who do employ IT consultants with little to no insurance background is the loss in time for these resources. Insurance is difficult and to understand the right questions to ask or the right technology to recommend, companies do not have the stomach to pay for consultants to learn on the job. Additionally, these resources tend to focus on what they do not know and spend less time focused on the project tasks than they otherwise would. This loss of time adds costs to the project budget and likely extends the project schedule.
Consultants with an insurance background have proven to have the ability to join a team in the middle of a project and pick-up their duties with little spin-up time. Those insurance carriers that contract insurance technology consultants not only find a benefit in their consultants to know insurance, but there is also a benefit for these consultants to have experience with specific policy administration systems as well as third-party vendor applications.
Flexibility of Billing Models
At a time when technology budgets within insurers are becoming thinner, there is a strong push for companies to evaluate the project deliverables against the value gained. Many of those deliverables, such as the addition of mobile technology, are set to improve operations for insureds to access and update their policy information or submit a first notice of loss. Historically these projects have followed a typical offering consisting of a client paying an hourly consultant rate for services rendered where the services are based on a number of effort hours. Some clients are now trying a new method called performance-based billing where consultant companies detail their deliverables for a given project and bill for each accepted deliverable with more of a fixed offering. While fixed bids are not new, the concept of billing for each deliverable at a fixed cost is catching on. This type of performance-based billing allows the consultant to share the client's risk while also sharing in the rewards. On the client-side, overall costs could potentially be higher with optimal outcomes, but clients are able to minimize financial risk while placing more accountability on the part of the consulting firm. This allows clients the ability to quantify their return on investment. Sometimes trends start and then falter over time. It will be interesting to see how far this trend goes with client budgets tightening.
Multi-Sourcing
Technology within the insurance field is becoming more advanced at a pace that exceeds most firm's ability to keep up with the Jones'. At the same time, an insurer has a budget to carry a certain level of full-time resources. These in-house resources are primarily focused on maintaining the company's current software/hardware and often lack the expertise of new technology. As a result, it is difficult for insurers to have the necessary talent to advance their business offerings without bringing in additional resources via consultants. So, we are finding these insurers are partnering with individual specialists and higher-end consultancies to give them a full spectrum of services.
Many times, the projects for insurers consist of implementing new systems such as policy administration systems. This effort requires an insurer to bring on tens of consultants due to the effort required. Some of these systems often are complex to implement leaving some consultancies lacking the full breadth of skill necessary to complete their services for a client. In many cases, an often-lacked skill within these consulting firms happens to be the knowledge of insurance. These consultancies are now reaching out to other consultant firms to work together to help fill the gap in talent to ensure all gaps within these larger projects are covered.
As a result, a new model called "crowdsourcing" is taking a foothold in the consulting industry. In this model, an online network of firms and freelancers comes together to provide solutions to a client.
It's a way for firms of all sizes to fill knowledge and skill gaps while partnering with other firms and independent consultants to deliver the full range of services their clients need.
Remote Work
When COVID-19 started to spread rapidly in March of 2020, businesses had two options. Either shut down operations or allow your staff to work from home. In almost every case, if insurers did not already have the ability to allow their staff to work remotely, they quickly adapted. Insurance companies have had to shift almost their entire workforces to operating remotely. And this is happening at a time when there is increased volume in state insurance regulatory activity. This activity has taken and will continue to take insurance companies' ability to adequately staff IT projects while focus is on addressing new emergency rules and directives as well as requesting information related to the COVID-19 outbreak.
The bottom line is that insurers have been able to adapt to an effective remote model allowing companies to see the benefits of remote work. While some carriers are bringing their employees back into the office, many are considering a blended work week where two to three days, employees are in the office and then working remotely on the other days.
This remote model works well for insurers as we move forward opening the possibility for some insurers to accept consultants who work remotely, effectively saving costs across the board. Insures can attract better qualified resources for less.
Conclusion
A prolonged economic downturn caused by COVD-19 has compelled companies to adopt stringent budget cuts leaving virtually no room for discretionary spending. Without question, IT consulting firms are losing business due to the uncertainty in the business environment. IBM Corp., Cognizant, and Accenture are all laying off IT resources to right size their workforce. Others are considering doing the same.
Insurance companies, however, are more resilient and have been able to withstand catastrophes many times. This time, insurers are going to have to become more flexible in their business models as they bounce back. In general, insurers will likely focus more on their core business activities while outsourcing their software projects. But the theme of consulting will change from hiring a consultant here or there into more of a strategic partner scenario.
These partnerships are not limited to the larger insurance companies and they do apply to all types of insurers including MGA's and risk pools. All insurers from start-up's to mid-sized insurance companies to larger multibillion insurers can gain benefits by partnering with a qualified insurance consulting company who has insurance knowledge, technical aptitude, the willingness to be flexible with billing models, and one's that have relationships with other consulting firms/agencies to fill gaps where necessary.
This is Perr & Knight. With a relentless pursuit of superior service delivery and product innovation, Perr&Knight has worked with nearly every insurance company in the United States and many from other countries during our 25+ years in business. We are available to help your business navigate through these uncertain times.