The Impact of COVID-19 on the Travel Insurance Industry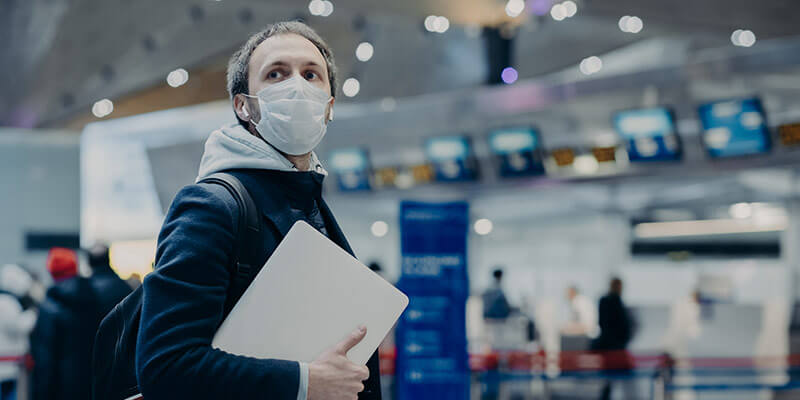 Authors: Crystal London, FSA, MAAA, Consulting Actuary, and Susan Cornett, FLMI, AIRC, CFE, Manager A&H Product Design
Coronavirus Disease 2019 (COVID-19) has had a dramatic impact on the travel industry – likewise the travel insurance industry – since it first made landfall in the U.S. in January. Travel ground to a near-halt in record time as state and federal governments ordered non-essential businesses to shut down, international borders to be closed, and shelter-in-place measures to be adopted, usually with little advance notice.
According to the TSA, airline travel has decreased by approximately 90% from mid-March to mid-May compared to the same period in 2019. This lack of movement has in turn resulted in a dramatic decrease in the need for travel insurance over the past two months, creating serious consequences for the travel insurance industry.
Lessons from the past
The SARS outbreak of 2002-2004 sheds some light on the role of pandemics in the travel insurance industry. After that event, most carriers updated their policies with exclusions and limitations specifically related to pandemics and epidemics. This has led to some confusion among insureds, as those who purchased travel insurance recently automatically assumed their canceled or interrupted trips would be covered. For many carriers, as of January, COVID-19 has fallen into the category of a "foreseen event" as a result of a pandemic, thereby disqualifying it from coverage applying to trip cancelation or trip interruption. However, an exception to this is if the policy includes Cancel for Any Reason or Interruption for Any Reason. As the benefit name implies, the cancelation or interruption is covered under any circumstance. Therefore, insureds who have purchased this "any reason" benefit are covered and could recoup a least a portion of their trip.
That said, most carriers are still offering trip cancelation/interruption coverage as well as medical expense and emergency evacuation coverage if an insured becomes ill, even if due to coronavirus.
However, if insureds cancel or interrupt their travel due to fear of the pandemic (not illness as a result of the pandemic), this reason may not be covered. Given marketing needs and distribution channels, there is no uniform policy across carriers as to when or why these benefits are not covered. Insureds are receiving multiple answers from multiple sources, further adding to their confusion.
What's next for the travel insurance industry?
Company business is down significantly right now, with some travel insurance carriers seeing double digit decreases in business. Travel insurance coverage isn't selling because no one is traveling. On the other hand, this decrease in travel has led to a significant decrease in claims payments, so some balancing is occurring.
Some carriers have responded to the pandemic by offering refunds outside the normal free look period or a change of coverage effective date if insureds postpone or reschedule their trip due to coronavirus. The hope is to keep the business on the books, not cancel outright.
Insurers may also face difficultly obtaining reinsurance for travel, especially for catastrophic events. Reinsurance companies, too, are trying to mitigate their risk. Given the current circumstances, reinsurers might be warier, especially due to recent medical models not anticipating a vaccine for another 12-18 months, or travel restrictions remaining in place until testing is widespread or a vaccine is available.
New state filings considerations
Going forward, we anticipate new regulatory compliance hurdles as a result of COVID-19, but to what extent is not yet clear.
Some states have fast-tracked regulatory measures dictating how carriers must address refunds. New York introduced state bill S8124B in March requiring travel insurance companies to refund premiums for COVID-19 related cancelations, but only in the circumstance that no payable claim has been filed already. Additionally, New York Department of Financial Services issued Insurance Circular Letter No. 4 in March allowing carriers to offer cancel for any reason benefits, which it previously did not allow in the state.
We anticipate additional hurdles and delays in future filings for travel insurance. Not just because many Departments of Insurance are operating with a reduced capacity (many are working from home, too), but because there will likely be added scrutiny on travel policies. We also anticipate questions regarding, and possible objections to, the use of epidemic and pandemic exclusions. We have yet to see the full scope of changes regulators will introduce in the coming weeks and months. The travel insurance industry is still adjusting to changes following the 2017 Market Analysis Working Group, subsequent regulatory settlement agreements, and introduction of model travel laws by both NAIC and NCOIL. Those states that have not yet adopted a version of the model law may take the opportunity to address pandemics and epidemics in the legislation at such time as it is adopted.
Make sure your state filings department or insurance support services partner keeps abreast of each state's updated regulations and statutes. Pay close attention to the release of applicable new bills and circulars. Continuously monitor updates to make sure you follow the new guidelines produced by state DOIs as this unprecedented event continues to unfold.
Opportunities for the future
The news isn't all bad. After weeks in quarantine, people are beginning to plan vacations and future travel again. They've had plenty of time to brainstorm a dream vacation and government stimulus checks have supplied an infusion of cash. In an attempt to generate revenue, travel suppliers like airlines and cruises are offering deep discounts, enticing people to book now for travel in the future.
For many travelers, trip cancelation insurance has never been top-of-mind ­– until now. People who have never thought of purchasing travel insurance are seeing the value of coverage and may opt for the added peace of mind when booking.
We are also seeing emerging opportunities for carriers to offer policies reflecting a changing travel landscape. Insurance carriers are reassessing coverage options, some opting to include additional pandemic and epidemic perils within their policy. Conversely, instead of added exclusions or limitations, some carriers are weighing options to offer coverage specifically for COVID-19 related issues.
We anticipate a flurry of new state filings in the coming months as carriers rush to reshape their policies to conform to changing customer demands and updated regulatory requirements that are part of this "new normal."
Right now, our best advice to mitigate the effects of the pandemic is to remain flexible. Prepare to give up a benefit or "unforeseen reason" clause in favor of keeping your eye on the big picture. As DOIs update regulations to adapt to changing circumstances, carriers, too, will need to remain open-minded and ready to make necessary adjustments as we all write a new future for the travel insurance industry.
Need help navigating the fallout from COVID-19? Our actuarial and product design experts are here to answer your questions and develop a solid plan to move forward.