25 Years and Still Going Strong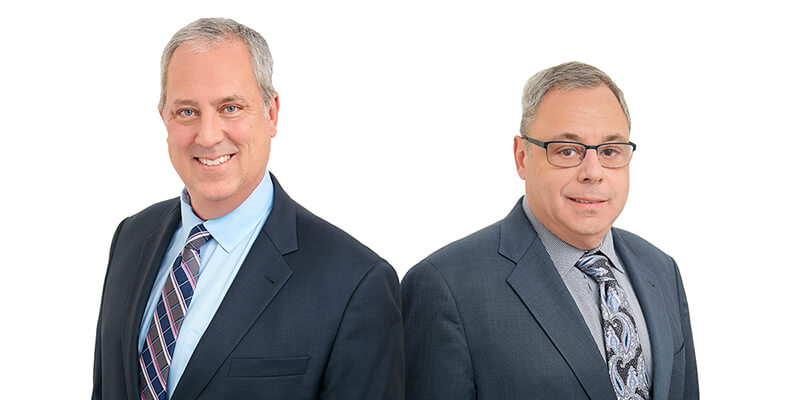 It's hard to believe that 25 years have gone by since Tim Perr and Scott Knight began Perr&Knight in the luxurious executive suite of Tim's converted garage office. Tim was an experienced actuary who decided to hang his own shingle and Scott was a part-time sales guy/admin assistant/ babysitter to Tim's infant son Nick and dog walker to the Perr's puppy pug, Sybil.
Though everyone wore a lot of hats in those days, Tim and Scott had a tireless passion to help insurance companies become more efficient and effective. We're still at it today.
It's always been about the clients
Everything we have done as an insurance consulting company has been about better serving our clients. In those early days, we would travel all over the country—from New York to Chicago, Texas, Florida, and nearly every state in between—meeting with insurance companies and helping them navigate the rigorous regulatory requirements and other operational challenges that vary dramatically by state. As a consulting firm, we have remained by our clients' sides as they continue to adapt to a changing playing field, and this close-up view of their needs and challenges has helped us develop tools to better serve them. We owe much of our success to our long list of dedicated clients, some of whom have been with us since day one.
"There's no better compliment than to value our service so highly that companies have continued to engage us over decades. Individuals who have changed jobs throughout the industry have continued to reach out to us over the course of their careers," says Tim. "We want to explicitly thank our clients because we could never have achieved our current level of success without them."
Thoughtful company culture brings out the best in our teams
Everyone at Perr&Knight brings their own strengths and experience to the table, and it's our goal to help every member of the team do their best work. Under the guidance of Judy Perr, Perr&Knight's Chief Administration Officer (and Tim's wife), we have continued to adapt our internal operations to meet the needs of our staff. As an actuary herself, Judy deeply understands the hinderances—both minor and major—that can inhibit actuarial and insurance consulting staff from performing at their peak. She applies this unique perspective in her role, ensuring that we evolve as a company to help our teams provide better support to our clients, and also feel supported themselves.
With 100+ employees in five nationwide offices, promoting a uniform company culture ensures that all our employees are on the same page. Three years ago, we assembled a corporate culture committee whose task was to articulate our shared company values. We put lots of energy into making sure that all locations and departments were represented, and that all employees are offered the chance to sit on the committee and offer ideas. This dynamic system adapts to changing times, so we are set up to respond to the needs and realities of an evolving workplace. Not only does this help us better serve our clients, we believe it also helps us attract the best talent.
Where to next?
As we move forward into the next 25 years of Perr&Knight (and beyond), we'll continue to keep our focus squarely on the future. In an industry that sometimes seems to move at a snail's pace, we believe in looking at what companies should be doing—and then developing the insurance support services that can help them get there.
By perpetually looking forward, we have added useful services like regulatory compliance consulting, product design consulting and technology consulting, and developed industry-leading products such as Statefilings.com. Many of these ideas were originally launched to help us be more efficient as a consulting firm, then we realized how valuable these innovations could be as services for our clients.
So, what's just over the horizon for the insurance industry? Tim Perr believes advancements in technology can absorb many of the industry's most time-intensive tasks and help actuaries apply their expertise in more efficient ways. He recalls, "When I started as an actuarial consultant, I spent half of my time keying data into Lotus 1-2-3 that had originally been entered via typewriter. Today's machine learning and AI advancements will allow actuaries to focus on things human beings do well—like using their judgment and applying their knowledge from other areas—instead of occupying valuable time with things that machines do well, like running numbers."
Another issue that will play an increasingly important role in the future: the evaluation of risk and protection regarding companies' digital assets. We predict that growth in insurance premiums will become more and more tied to the growth of cyber assets rather than physical assets as they are now. Rather than insuring buildings, insurance companies will need to expand their ability to insure data and other property stored digitally. "The cyber world is just like the material world," Tim explains. "When companies put their property out into the cyber world—like data storage, apps, IP, and even their reputations—it all needs to be insured."
Cheers to our past—and here's to the future!
We're proud of the company we've created, the corporate reputation we've built, and the career successes our staff has achieved. We're grateful to everyone who has contributed their insight and expertise and to the clients whom we have watched grow over time.
"When we started out in 1994, we were a couple of young, bright-eyed insurance consultants in our early thirties and we were meeting with insurance executives who were in their 50s and 60s," recalls Scott. "Now 25 years later, we're the older, wiser insurance consultants, meeting with insurance execs who are ten and twenty years our junior. But we're as energetic as ever and all our years in this business have given us insight and experience that continue to fuel our momentum. We've got no plans to slow down any time soon."