Introduction
During the past three years I have become an avid fan of business strategy publications: Harvard Business Review, Strategy & Business (a Booz Allen Hamilton publication) and the McKinsey Quarterlyall publish extremely insightful articles. After reading one, I always attempt to find a connection between our industry's leading companies and the articles' suggested techniques. I cannot say that there is a direct tie between reading Harvard Business Review and being named to Ward's Top 50 or the Fortune 500.  However, there are some strategies that underwriting managers and executives should embrace, especially during a downward market cycle that these – and other – publications offer in their coverage of all industries.
Throughout 2007, industry sources reported rate reductions for most property/casualty lines.  The widely published MarketScout Market Barometer[i] indicated a 15% rate reduction in property/casualty insurance as of November, 2007.  This overall reduction coincides with other industry reports.  In April 2007, The Advisen/RIMS Benchmark Survey[ii] noted a 7.7% decrease for D&O as well as decreases in other lines for the first quarter of 2007. Commercial property is a product line where the two reports differ.  The Advisen/RIMS report showed a 0.8% increase in property lines while a May 2007 MarketScout report found a 15% rate reduction by the second quarter.  Perhaps the difference is due to three months of very aggressive property pricing. Notwithstanding this one disparity, indicators suggest that all P&C pricing is deteriorating.
Despite price changes, most markets are experiencing strong profitability.  In a joint press release from the Insurance Services Office (ISO), the Insurance Information Institute and the Property Casualty Insurance Association of America[iii], there are statistics indicating a slip in key industry indicators. The P&C combined ratio for the first quarter is up to 91.7% versus 91.1% in 1Q 2006; the P&C industry's annualized rate of return on average policyholders' surplus fell to 12.9% versus 15.5%  in the previous year, and policyholder surplus grew by 1.9% ($9.4B), but that figure is 29% lower than the growth during the first quarter of 2006. Since history tends to repeat itself, the industry's fourth quarter of 2007 is unlikely to be as profitable as first quarter. If companies are going to achieve profitable growth during this cycle, they must avoid the pitfalls of the last market. Prolonging the current profitability can only occur through setting realistic goals and by finding innovative solutions to achieve top and bottom line objectives. The opening paragraph of The Elusive Goal of Corporate Outperformance should strike a chord with every insurance executive:
"Many executives focused on growth assume that companies can sustain strong top- and bottom-line performance over long periods of time. McKinsey research, however, confirms that this kind of success is exceedingly rare and suggests that its pursuit can lead executives to set unrealistic expectations. Indeed, a study of large global companies finds that less than one percent of them outperformed their competitors on both revenue growth and profitability over a decade."[iv]
A McKinsey study analyzed the 1994 – 2004 results of 1,077 companies around the world with revenues exceeding U.S. $5 billion. The statistical findings are not very exciting but the opportunity for future study is intriguing.  The report concluded that only 9 out of 1,077 outperformed their competitors' top and bottom line results during the 11-year period. The authors suggest that the nine companies must have "knowledge-intensive intangibles" that were producing company value.  Perhaps these knowledge-intensive intangibles, like a strong brand or a proprietary rating plan, helped create some of the top performing insurance companies.
Accordingly, let's examine some top performing insurance companies and see whether we can identify some of those intangibles.  The 2007 Forbes Global 2000[v] includes over 100 insurance companies named to its list of  "corporate titans". Company rankings are based on a composite score that includes sales, profits, assets and market value. Carriers that made the list have market values from $0.22 billion to $174 billion, while asset size varies from $5.3 billion to $1.6 trillion. Even when you narrow the analysis to just the top five insurance companies, you see marked differences in these two metrics (seeExhibit 1). When you consider the top five insurance companies in the Forbes' Global 2000, there is no clear tangible criterion for success. Size of P&C (or life) operations, affiliated financial services, scope of product offering or country of domicile seem to have little impact on company profits or size.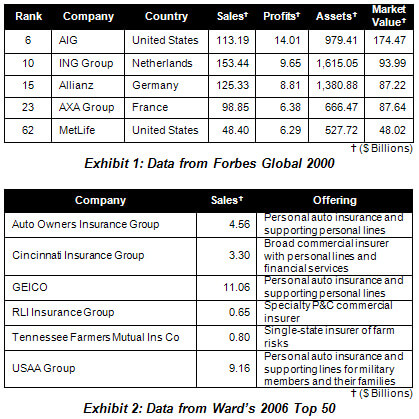 The Ward Group examined 3,000 P&C companies to determine its 2006 Top 50[vi], but finding a defined trend is just as difficult as looking at Forbes. Ward's top property/casualty insurance companies produced a 14.1% return on average equity from 2001 to 2005 compared to 6.3% for the industry. If we look at the seven companies who achieved Ward's illustrious status over a 16-year period, the trend is still unclear (see Exhibit 2). The successful companies include both commercial and personal lines; they deliver their products to niche markets as well as broad offerings. Several years ago I analyzed the long-term results of more than forty medical malpractice companies and even within a niche market, there were 'murky' similarities among the top companies.
If we cannot extract the secrets of these successful companies by finding business correlations, then carriers should consider some of the growth strategies that have been tested and proven successful.
The Harvard Business Review on MarketBusting
A recent Harvard Business Review article on MarketBusting really grabbled my attention; once I read the article's introduction, I was hooked:
"A company can't outperform its rivals if it competes the same way they do.  Re-conceive your business's profit drivers, and you can change from copycat to king of the jungle." [vii]
The article identifies "MarketBusting" strategies and softer changes that companies can make to generate low-risk growth.  Rita Gunther McGrath and Ian C. MacMillan are the coauthors of this article as well as the book, MarketBusters: 40 Strategic Moves That Drive Exceptional Business Growth.  Although most of the cited examples are producers of consumer products, the concepts are broad enough to generate ideas for change in any reader.  And for those who have trouble being so visionary, there's the example of Swiss Re building a better model. More importantly, the duo's research identified eight steps companies can take toward low-risk growth. For those who have goals for growth in 2008 and 2009, it may be time to assess change in your "unit of business" or "key metrics" to achieve growth accordingly:[viii]
Change your unit of business;
Help improve your customers' cash flow;
Improve your asset utilization;
Improve your cash-flow velocity;
Improve your customers' asset utilization;
Improve your customers' key metrics;
Improve your customers' personal productivity; and/or
Improve your productivity metrics.
When I first looked at this list I thought about P&C companies and what we could do to build low-risk growth.  Some thoughts that came to mind include:
Customer cash flow (2).  Think of innovative ways to partner with premium financing companies.
Customer key metrics (6). Work with insurance brokers and customers to find what is most valued (e.g. policy issuance) and then assess the current process.
Improve our productivity metrics (8). Embrace technology and determine where the use of XML (eXtensible Markup Language) and the Internet can reduce the number of keystrokes in your workflow.
It boggles my mind to think about how many companies, business units, divisions and profit centers have growth goals, but the goals are based upon doing the same tasks that our industry has done for the past 25 years.  I know most of us have gone to the same type of management meetings to brainstorm on how we will reach production goals.  I propose that this industry should have meetings with a simple agenda: to improve the way we do business. Let the meeting's best idea for improvement drive a company's goals for the next three years.
Where Value Hides
A recent book, Where Value Hides, by Stuart Jackson of L.E.K. Consulting gets to the heart of several questions that drive profitable growth. Determining what business we pursue cannot be done in a silo.  In insurance companies, the underwriting manager must examine the economics associated with the product, projected profitability, competitor trends, customer preferences, etc.
By sharing real life examples, Jackson introduces the concept of Strategic Market Position or SMP.[ix]From the previous paragraph, you might think that SMP is just another term for market segmentation. However, SMP is a much deeper analysis of knowing where you should compete and where you can achieve the greatest return for your dollar. In order to perform this analysis, you have to truly understand your corner of the industry and who you are currently targeting. Industry data and knowledge of customer behavior will help you assess how product scale and market share bring economic benefits to you and/or your target customer.
Where Value Hides does not give an example specific to the insurance industry, but there is a chapter for low-growth or low-margin businesses (like insurance).  For the insurance executive, the SMP process starts with a decision tree and a value map that helps identify strengths/weaknesses in product offerings. A weak SMP can drive the decision to offer new products, improve the value proposition on existing products, reduce expenses, integrate divisions or sell the ship. Of course, making the right decision will take a lot of internal and external research.
An example of SMP at work is the historic battle between Southwest and America West Airlines. In 1990 the two airlines had almost identical U.S. market share. America West tried to be all things to all customers by expanding into all major cities and the international market. Southwest recognized an important fact:  the best way to build market share is to build value. Travelers value an airline that provides options between two cities because it allows for flexibility in their travel. It appears that America West was spread too thin and when it entered new markets it could not offer the type of options that travelers prefer. The lesson: know your customer or face financial uncertainty.
Formally or informally, each one of us is challenged with knowing our customers and creating our own value map. Be careful not to mimic someone else's value map.  If examined myopically, the value map created by a product line expert in Bermuda will not look like the value map created by his/her U.S. counterpart.  Similarly, a value map for a New York property insurer offering $10 million in capacity will look nothing like the value map offered by their New York competitor offering $100 million.  For most property/casualty lines, there is not one ideal value map that acknowledges the entire market, recognizes current trends and ultimately identifies where scale or market share can generate increased profitability.
An environment for change
To manage through this market cycle we will need to become highly automated. Running Microsoft Excel® pivot tables to look at premium/loss by product line is only the beginning. Companies need to consider building databases that aggregate broad industry data with submission exposure and loss data.  Actuaries need to be open to regression modeling with the hope of improving predictors of loss. An environment that embraces technology will be critical, but there is much more that will lead to our industry's success.
Proactive behavior with regulatory compliance, embracing a branding campaign, managing expenses and motivating teams to remember the bottom line are just some of the major tasks for the next few years. I am fortunate to be in an environment that supports the critical tasks for success. But what are the key elements of an environment that allows a company to grow?
In the Summer 2006 issue of Strategy & Business, the idea of "growth champions" leads the reader to question how their organization drives growth.[x]  Booz Allen Hamilton, in collaboration with the Association of National Advertisers, surveyed 2,000 executives about their companies' marketing departments.  By categorizing the marketers' responsibilities, the survey found that only a select number of companies have marketing organizations that fall into the category of "growth champion."
According to the article, growth champion marketers have the following in common:
They can identify their contributions to revenue growth.
Their members have capabilities broader than just marketing.
They use standardized tools.
They are proactive, not reactive.
They are perceived by the C-suite as contributors to growth.
When I read this article a year ago I dared myself to be the "growth champion" in my profit center. In doing so, I took a traditional Director of Marketing role and expanded it to include being:
an initiator of new products;
a leader of the branding campaign;
a public speaker at industry conferences; and
a manager of major producer relationships.
The challenge of becoming a growth champion is something that everyone should embrace. Allied World Assurance Company U.S. has claims people who help secure new business opportunities and accounts receivable staff who improve cash flow while building customer relationships. Rethinking our business was a major contributor to growth. How will you become a growth champion?
In light of current market trends, profitable growth will not come easily to every market.  There is no roadmap that shows carriers how to consistently achieve a double-digit return on equity. Reaching this goal will require each company to challenge the status quo, analyze macro and micro events and become innovative thinkers. Strategies based on these fundamental ideas will enable companies to flourish through the soft market.
References
---