Introduction
Overwhelmed and bewildered about all the propaganda on insurance business intelligence and data warehousing? Lost in a sea of technical terminology? If so, this article may provide much-needed insight on the business intelligence landscape and help to reveal ways to gain value from one of your most valuable assets – your data.
For our purposes, business intelligence, or BI, refers to software applications and related technologies used to gather, provide access to, and analyze data and information about company operations. BI systems help companies gain a timely, comprehensive understanding of the factors affecting their business, including metrics on sales, production and internal operations, and as a result help companies to make better business decisions.
The term "business intelligence" often prompts a reaction – positive and negative – with respect to the promise it implies. Most organizations desire it, some have it, some have components of it, and the rest hope to achieve it some day. BI solutions involve varying degrees of complexity and require much consideration, as no two are identical.
The criticality of good data
A good data repository is one of the most important strategic assets a company can possess and a prerequisite for BI. For those of us in the insurance industry, data are invaluable. Determining how well data are currently utilized provides a baseline to measure how valuable data are within your organization now and in the future on your road to data mastery.
Being an information-intensive industry, insurers rely heavily on data from both  internal and external (i.e., third party) sources in order to operate. The quality of that data is an important driver of operational effectiveness, as decisions that influence the performance of the business are wholly dependent on data that are timely, accurate and readily accessible.
Many years ago, before the widespread use of (relatively) inexpensive computers, humans armed with large green ledger pads and sharp pencils were the main source of business intelligence. Consequently, no insurer was able to derive any real strategic advantage from the quality of their data or any unique ability to derive meaningful information from it – the playing field, so to speak, was level. Today, we find a bewildering array of data sources and data access techniques, which has shifted the field to favor companies that have become early adopters of leading-edge data management platforms that are better able to respond rapidly to problems or opportunities that their data reveal. Put another way, a company's "data maturity" matters considerably.
A lack of quality data inhibits insurers from properly assessing core areas of their business, including risk assessment, underwriting, new product development, claims, and customer service. In our experience, the cause of most data quality issues is rooted in incompatible data formats dispersed among multiple, disparate systems within heavily siloed organizations.
For many insurance organizations, corporate data access is a tedious and frustrating process. Business managers often wait days or weeks for critical data from IT staff, who sometimes need to utilize third parties to create custom reports – each of which bears considerable time and expense. The advent of powerful yet affordable BI tools, however, puts the power back into the hands of business users, and operations managers would do well to familiarize themselves with some basic BI concepts.
As BI has become a hot topic has also become a source of confusion due to the various definitions, architectures and technologies promoted among a growing list of market entrants. Understanding the fundamental tenets of good data management should help our readers cut through the clutter and help them on their way to data mastery.
The TDWI Data Maturity Model
The TDWI Data Maturity Model (DMM) provides excellent guidance for those companies seeking data mastery. Depicting six stages of maturity, companies that have mastered data management have graduated through prenatal, infant, child, teenager, adult and sage stages. (see figure on page 108). Each is described in turn below:
Prenatal.Companies at the prenatal stage view data as a cost center. Data are used primarily for basic management reports (P&L, accounts receivable, etc.), mandated regulatory reporting and little else. Data at companies in the prenatal stage are primarily maintained in an isolated server environment accessible by information technology staff.
Infant.Companies at the infant stage view data solely as a resource to inform executives. Infant companies will typically prepare and distribute multiple spreadsheets containing data requested by executives, with no central repository.
Child.Companies at the child stage have crossed a minor "gulf" on their way to data mastery. As their data management capability matures, data are maintained in data marts containing data directly relevant to a department for which it has been deployed. Given the centrality of data management at the departmental level, child stage companies use their data to identify and report departmental-level metrics into which departmental staff have visibility, providing new levels of empowerment.
Teenager.Companies at the teenager stage of data maturity have learned to aggregate data into divisional repositories (i.e., data warehouses) that provide visibility into cross-departmental processes. Companies at the teenager stage are poised to make the leap to mastery.
Adult.Companies at the adult stage have crossed a wider "chasm" and have centralized data acquisition and maintenance across the enterprise. Adult stage companies use their data to assess and drive the entire business, as they enjoy performance visibility at every level of the organization.
Sage.Companies who traverse the entire DMM to reach the sage stage understand not only how their own data are critical to improving performance, but also understand how to define, acquire and integrate data from multiple enterprises (e.g., suppliers and key customers) in order to better align their operations with those on whom they depend to complete the value chain.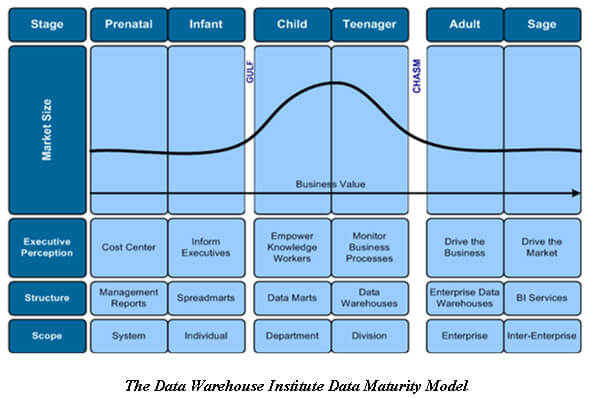 Note that the graphic depicting the DMM shows the "fattest" part of the market – representing the fact that most companies fall within those categories – lies within the "child" and "teenager" stages. At first glance, a company that has reached the teenager stage seems to be better than most, so it's fair to question the real benefit to "crossing the chasm" into adult and sage stages. Accordingly, we'll next examine the benefits that accrue to forward-thinking companies that strive for the data mastery that characterizes the sage stage.
Return on investment
Inasmuch as it involves an intense commitment of resources to new technologies and redesigned processes, where are the benefits realized? Generally speaking, companies that have mastered their data have streamlined operations, make better underwriting and risk-selection decisions, enhanced claims management and loss mitigation capabilities and are able to identify actionable patterns in business results that support the strategic decision-making needed to thwart competitors less adept at analyzing their own data.
That said, we need to support a basis for a tangible return on investment. In our view, there exist at least three areas in which a data mastery initiative provides significant dividends: reporting, analytics and predictive modeling. We'll explore each in this section, as well as consider other potential benefits.
Reporting
We've already discussed the frustrating reliance on IT departments on the development and delivery of reports in those organizations with less mature data profiles. Modern BI solutions include extremely flexible and easily manipulated reporting facilities. The ease with which reports can be developed and generated makes canned reports all but obsolete, and moves the design of critical reports into the hands of business users for on-demand report creation. Speed, accuracy and immediately actionable information result.
Analytics
All leading BI tools on the market today include dashboard capabilities. Management dashboards provide real-time, at-a-glance graphics that help executives to focus their attention and make more informed decisions. The visual nature of dashboards makes them intuitive, helping all in the executive suite to literally be "on the same page" when it comes to analyzing the metrics that drive the successful pursuit of organizational objectives. Such instant access alleviates many of the burdens faced by insurers today. For example:
Only 9% of insurance companies can accurately measure the cost of a customer transaction, and only 4% have an accurate expectation for unit cost;
The average insurance processing unit operates at 62% productivity and 51% utilization;
The average post-sale customer inquiry is touched 2.4 times and costs $12.40 in direct labor;
The average manager in an insurance processing unit reviews 34 separate system-generated reports per month. These same managers report spending
14 hours per month preparing manually generated reports from 34 core sources;
Of the companies that meet or exceed internal service expectations, only 51% were rated at or above average in customer satisfaction surveys;
Only 4% of all processing operations measure true customer turnaround time; and
Only 22% of service-based operations accurately forecast customer volume. Less than a third of those can translate volume into work hours.[i]
These statistics emphasize the need for performance metrics that, absent a viable BI strategy, are not readily available. Timely performance metrics highlight inefficiencies and validate process improvement initiatives.
Here are but a few additional examples of the many benefits of data mastery:
Underwriters can drill down on data to identify not only how but why a risk is high or low, informing better underwriting decisions. They can perform rate and price reviews and combine unique rating factors in different ways, on the fly, and look for distinctive underwriting characteristics and market only those policy forms, coverages, riders and endorsements that produce desirable loss ratios.
Actuarial teams can perform pricing analyses to evaluate a host of items from underlying data. Actuaries gain the ability to quickly modify, identify or eliminate classes, territories, and pricing based on real-time analytics.
Marketing managers can better evaluate distribution partners. Aggregated producer data including agent sales, hit ratios and persistency rates inform better marketing decisions.
Administrative personnel can track key performance indicators any time, from any desktop, including written, delivered and terminated premium for all products broken down by agent, type of contract, and policy status.
Claims adjusters can follow trends and benchmarking statistics for certain types of claim.
Predictive modeling
Predictive modeling is an area of great interest to the insurance industry, especially among personal lines carriers in support of pricing and risk selection criteria. A prerequisite for predictive modeling is competent data management, as it often involves the use of third party data integrated into administrative processes (e.g., credit scoring) or closely bound to the BI environment for analytical purposes (e.g., competitive analysis, claims settlement statistics).
Successes with predictive modeling among personal lines insurers has piqued the interest of players in commercial lines who face challenges of their own in that, on balance (and at the risk of making a sweeping generalization), they're more reliant on legacy systems and tend to have less mature data management capabilities. Room for improvement, however, means opportunity for those savvy enough to pursue data mastery.
Other benefits
There are many additional benefits that may be derived by pursuing data mastery. A mature data capability:
Standardizes data and provides a "single view of the truth";
Helps identify underlying data deficiencies;
Helps identify operational inefficiencies that aid in process improvement initiatives;
Streamlines operations through improved underwriting and risk-selection functions;
Improves claims management and loss mitigation;
Supports corporate governance initiatives and regulatory compliance mandates;
Improves strategic planning, budgeting and forecasting;
Facilitates consolidation of disparate IT platforms;
Enables simulation and predictive modeling;
Enhances distribution management and allows more meaningful web-based communications with customers or agents; and
Eliminates multiple distributed spreadsheets by using centralized dashboards.
Getting started
Having developed some reasonable arguments for endeavoring to improve – and ultimately master – the data management capabilities of an insurer, how does one go about it? The following steps should provide the reader with a reasonable starting point.
Clearly define your initial intentions and objectives. A key initial objective should be the development of a strong, robust, and scalable BI foundation, noting many of the benefits described above.
Identify project phases, plan for initial quick wins and manage diligently.
Don't try to go it alone. Gather support from individuals with insurance industry domain experience that know how to leverage best-of-breed BI solutions.
Evaluate multiple vendors. Align vendor selection criteria with the project objectives.
Identify all data sources and consider the extent of data conversion required for initial and ongoing warehouse loading.
Use proven, robust, and automated data integration tools for data extraction, transformation and loading (ETL).
Define the appropriate time interval for updating data (not just when, but how often).
To secure buy-in, exploit the highly visible outcomes of project efforts, which include reports, dashboards, and scorecards.
Start now. Waiting is preventing your most valuable information from getting to your underwriters, adjusters and executive teams – and there is a high likelihood that your competitors have or are intending to launch a BI initiative very soon.
Embrace change. The BI environment your company develops should be consistently evolving to satisfy all interested parties in a way that reflects the dynamism of the insurance industry.
Summary
An effective business intelligence initiative requires clarity from the start and an ongoing commitment to data mastery. If you haven't begun yet, start now.  If you have, assess the results to date to see if it the initiative is on track and aligned with the larger goals of the organization. If not, make the appropriate adjustments and re-start the initiative. Take note: your competitors are spending unprecedented amounts of money in their push to master their data – it is in fact a major priority among property/casualty insurers according to a recent Celent survey.[ii]
Whatever your company's data maturity level, the real value of a company that has mastered its data cannot be overemphasized, and the goal of data mastery a worthy pursuit. Those currently on the path are learning more about their businesses every day, and becoming well positioned for the informed decisions that drive profitable growth.
References
---
[i] Verint/Opus Solutions Survey, inInsurance Networking News, June, 2006
[ii] Celent. (2007). Insurance CIO/CTO Pressures, Priorities, Projects, and Plans for 2008: Survey Results.
---
Bill Taylor is a twenty-five year insurance industry veteran. His executive-level experience has provided him with considerable knowledge in insurance operations and technology management for underwriting, business development, product development, marketing, finance and strategic planning processes. Bill was previously VP of Operations at Axa Re America and Munich Re America, responsible for new business integration, strategic planning, operations management, IT management, budgeting, and management reporting. As a key senior executive, he oversaw operations where premium volume had doubled in excess of $900 million. He has planned, managed and implemented many insurance-specific solutions for a broad range of leading insurance and insurance consulting practices including Specialty Markets/Munich Re America, Axa Re Property & Casualty Insurance Co, Axa Re America, Community Association Underwriters and Cigna Corporation. At Capgemini America, Bill led the International Insurance Practice, where he was involved with large scale systems designs and implementations on behalf of Capgemini's extensive roster of insurance clients.